Prof. Suman Chakraborty is the Founder Director of Compass Institute of Competitive Examinations. He studied English at the University of Glasgow and taught at various institutes including De Montfort University (UK), University of Derby (UK) and the British Council, India. He is currently a visiting Professor at Sister Nivedita University, Kolkata. He has several publications to his credit.
Prof. Dr. Ranjit Sur is a PhD from Indian Statistical Institute. He has been teaching Mathematics for competitive examinations for more than three-decades. Currently he teaches advanced Mathematics at XLRI, Jamshedpur, University of Gour Banga and SIEM, Siliguri.
Santanu Sinha Chaudhuri taught English at the British Council Kolkata for many years. He teaches General English, Business English and Spoken English to adults. He is the author of Learn English, one of India's noted grammar books, published by Mc Graw Hill and Sage. He has Cambridge CELTA certificate to his credit.
Gennia Nuh studied English at Sri Shikshayatan College, University of Calcutta and is currently a doctoral researcher at St. Xavier's University. She also teaches English at a noted English mediam school in Kolkata.
Gourav Ketan Lahiri is an Engineer. He studied Electronics and Communication Engineering at JIS College of Engineering. He is currently working as an Instructor at National Small Industries Corporation (NSIC) Technical Training Center. He has been teaching students of competitive examinations for a long time.
Sandip Saha studied Biological Sciences at the University of Calcutta. He has wide experience regarding various types of competitve exams of state and national levels.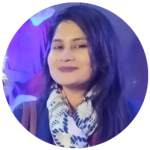 Kankhita Roy is an M.Sc in Geography from University of Calcutta and a B.Ed. for which she had her teaching internship at Akhil Bharatiya Vidyalaya, Hariyana. She taught at Tomorrow's Foundation. She has NET and upper-TET clearance to her credit.